news
press releases
WhosHere is First iPhone Social Networking App to Have Free Phone Calls
Bypass wireless carriers, free VOIP calls & keep your phone number private with WhosHere for the iPhone and iPod touch.
San Mateo, CA & Alexandria, VA - November 9, 2009 - myRete is announcing WhosHere 2.0. The WhosHere 2.0 marquee new feature is
WhosHere Voice
. As long as both parties have a Wi-Fi connection, WhosHere Voice allows our 750,000 users to call any other user for free. The recipient does not even have to be in the app to take a WhosHere call.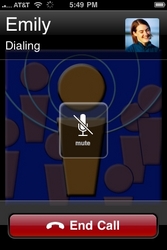 There are two unique components of WhosHere Voice. First, each user controls who has permission to call them. Second, users do not give out any personal information to make or receive a call. Users do not have to give out a phone number, email or IM address to use WhosHere Voice. It ensures users all the privacy they desire to have on a caller-by-caller basis. WhosHere Voice uses Apples iPhone SDK to create a Voice Over IP (VOIP) connection and completely avoids the mobile phone networks. As such, WhosHere users will not see any long-distance, roaming or international mobile phone charges. Additionally, WhosHere Voice works on the iPod touch 2G further enhancing the utility of an already great device. Bryant Harris, myRete CEO, said of WhosHere 2.0, "We are thrilled that we have accomplished two significant events in the social networking space. First, we have given our users unique and compelling feature; free, in-app calls without having to give out any personal information. Second, we have done something brand new on the iPhone and iPod touch; creating a social network that goes beyond texts and images to one where real-time voice conversations can happen." WhosHere 2.0 includes:
WhosHere Voice - make and receive FREE calls within WhosHere. Talk with that potential date without giving out your phone number, IM or email address! Want to call a WhosHere user down the street? Free. Want to call a WhosHere user on the other side of the planet? Still free. * **
Invite a friend - want to get a friend on WhosHere and have them immediately find you? Just use the invite a friend feature and once they load WhosHere and enter your friend code, you will be on their Fav list.
Instant messaging - with WhosHere 2.0, most messages will get delivered instantly. We were very proud of our near real-time text messaging system that we have had since inception. We werent satisfied. We wanted to go from fast, to really fast. And, that is what we have done. Now, any user with WhosHere will receive most text messages instantly. **
Copy and Paste added to Chats section - now you can copy and paste the texts you have sent and received. **
Additional "Send Pic" controls - now you can control who has permission to send you pictures. You can even grant temporary permission for a WhosHere user to send you pictures. Once the time expires, they cant send you any more.
Enhanced Push Notification - WhosHere can now be set so Alerts do not show you the contents of the text message.
Mute for incoming messages - choose whether you want to have a sound play when you receive a text from anyone, from people just on your Fav list or no one at all.
Improved layout when viewing someones profile - we streamlined the position and layout of the profile controls.
* Requires an iPhone or iPod touch 2G and both parties to have a Wi-Fi connection
** Requires OS 3.0 or higher WhosHere is a social proximity networking application that enables users to meet friends, potential dates or network through an exceptionally simple interface. WhosHere will show you matches that are near you or anywhere in the world based on your answers to a few questions about yourself and who you are interested in meeting. It takes the chance out of the chance encounter. When you find someone you want to talk with, you can send unlimited, free text and image messages to them, and make and receive free calls; all within the WhosHere application. WhosHere runs on Apple's iPhone, iPhone 3G, iPhone 3G S and iPod touch and is available for free download on Apple's
iTunes App Store
. Users of WhosHere can find online help at WhosHere.net/support.html and on YouTube (http://YouTube.com/WhosHerebyMyRete). About WhosHere and myRete
WhosHere has approximately 750,000 users. Over 425 million free text messages and 11.5 million free images have been sent via WhosHere. myRete, Inc. was founded in March 2008 with the singular focus of bringing an exceptional proximity networking experience to the iPhone and its millions of users. myRete's product line includes the WhosHere client and WhosHere application server. Rete is Italian for "network". Offices: San Mateo, CA and Alexandria, VA.
###
Press Contact:
Stephen Smith
myRete
marketing@myRete.com
571.969.5432