news
press releases
WhosHereTM is "Best Social Network iPhone App" Finalist
WhosHere makes final top-five apps being considered for Mashables Open Web Awards in the "Best Social Network iPhone App" category.
San Mateo, CA & Alexandria, VA - November 19, 2009 - WhosHere is in the final round of voting for Mashables 3rd Annual Open Web Awards in the category of "Best Social Network iPhone App". Only five applications made it to the final, voting round. "We are ecstatic that our users believe so strongly that WhosHere is the best social network iPhone app that they voted so many times and got us to Mashables final round. We are amazed that, after just over a year, WhosHere is being compared to Facebook" said Stephen Smith, co-founder of myRete.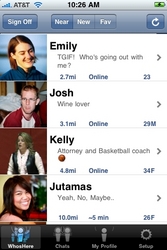 You can vote for WhosHere as the "Best Social Network iPhone App" at
http://mashable.com/owa/votes?v=142&c=29
. WhosHere offers free text messaging similar to SMS, free image messaging similar to MMS and free, in-app VOIP phone calls on the iPhone and iPod touch. WhosHere was the first app for the iPhone and iPod that let you meet new people nearby. WhosHere is a social proximity networking application that enables users to meet friends, potential dates or network through an exceptionally simple interface. WhosHere will show you matches that are near you or anywhere in the world based on your answers to a few questions about yourself and who you are interested in meeting. It takes the chance out of the chance encounter. When you find someone you want to talk with, you can send unlimited, free text and image messages to them, and make and receive free calls; all within the WhosHere application. WhosHere runs on Apple's iPhone and iPod touch and is available for free download on Apple's
iTunes App Store
. Users of WhosHere can find online help at
WhosHere.net/support.html
and on YouTube (
http://YouTube.com/WhosHerebyMyRete
). About WhosHere and myRete, Inc.
WhosHere has approximately 750,000 users. Over 425 million free text messages and 11.5 million free images have been sent via WhosHere. myRete, Inc. was founded in March 2008 with the singular focus of bringing an exceptional proximity networking experience to the iPhone and its millions of users. myRete's product line includes the WhosHere client and WhosHere application server. Rete is Italian for "network". Offices: San Mateo, CA and Alexandria, VA.
###
Press Contact:
Stephen Smith
myRete
marketing@myRete.com
571.969.5432